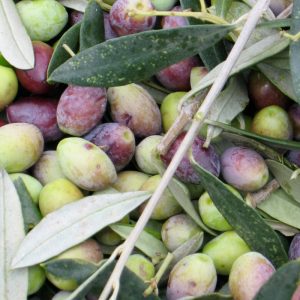 Around the village of Stavies, we grow a special type of olive, the "psiloelea," because it makes a great oil! "Psiloelea" literally means "tiny olive." This type of olive is also known as the "Koroneiki" olive. These olives, while small and difficult to cultivate, produce an olive oil of exceptional quality.
For generations our family has lived in Stavies and produced olive oil ("lathi" in Greek) from small groves scattered around the village hillsides. We still cultivate some of the same olive trees that Manoli and Marika Manousakis and Marika Stamatakis, Manos's maternal grandparents, planted together when they married Manolis and Maria Manousakismore than 60 years ago. With the help of family, the tradition of caring for the olives continues to this day.
Mt. Kofinas's all-natural, pure extra virgin olive oil begins with olives hand gathered at their peak for maximum flavor. The olives are cold pressed (not chemically extracted) soon after harvest to assure superior taste and low acidity.
Any oil below 1% acidity level qualifies as "extra virgin," but Mt. Kofinas's Extra Virgin Olive Oil has an acidity level between .2% and .4%. This is another reason why Mt. Kofinas stands out as a premium quality olive oil.
The result is a healthy olive oil with a distinct natural green color and a distinct, fruity, and full taste which won't be found in lower quality olive oils.
We assure you that our olive oil is not diluted or mixed with any other oil, before being imported directly from the village of Stavies to the United States. It comes directly from our grandparents' groves, is pressed, and sent directly to our family in the United States. We guarantee our single source, so you can trust that it's a quality olive oil. We are proud to offer this quality product directly from our family's olive groves and are confident that you will enjoy the taste and richness as much as we do.